"These things saith He that holdeth the seven stars in His right hand, who walketh in the midst of the seven golden candlesticks"

Revelation 2:1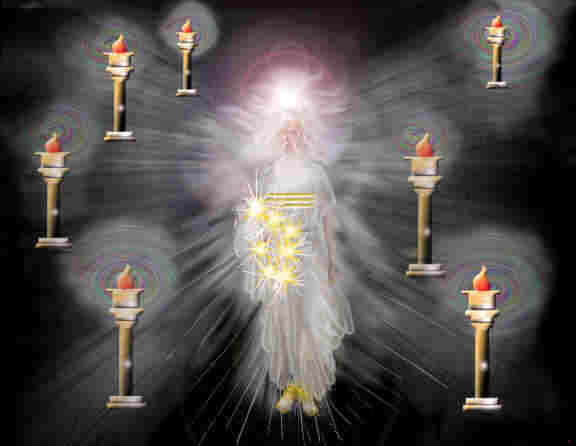 I am Alpha and Omega, the first and the last: and, What thou seest, write in a book, and send it unto the seven churches which are in Asia; unto Ephesus, and unto Smyrna, and unto Pergamos, and unto Thyatira, and unto Sardis, and unto Philadelphia, and unto Laodicea.

Rev 1:11

And I turned to see the voice that spake with me. And being turned, I saw seven golden candlesticks; 13 And in the midst of the seven candlesticks one like unto the Son of man, clothed with a garment down to the foot, and girt about the paps with a golden girdle. 14 His head and his hairs were white like wool, as white as snow; and his eyes were as a flame of fire; 15 And his feet like unto fine brass, as if they burned in a furnace; and his voice as the sound of many waters. 16 And he had in his right hand seven stars: and out of his mouth went a sharp twoedged sword: and his countenance was as the sun shineth in his strength.

Rev 1:12-16

The Book of Revelation depicts the end of the present age and the coming of God's future kingdom through symbols, images, and numbers. These symbols include an angel whose legs are pillars of fire, men who ride on horses while smiting the earth with plagues of destruction, and a fiery red dragon with seven heads and ten horns who crouches before a heavenly woman about to deliver a child.

Although the keys to some symbols have been lost, the overall message of this book is clear: God is all powerful. No countermoves of the devil, no matter how strong, can frustrate the righteous purpose of God.

The vision John receives opens with instructions for him to write to seven churches. He both commends them for their strengths and warns them about their flaws. Each letter was directed to a church then in existence; but also represents conditions in the church throughout history. Both in the church and in our individual lives we must constantly fight against the temptation to become loveless, immoral, lenient, compromising, lifeless, or casual about our faith. These letters make it clear how our Lord feels about these qualities.

These letters are a warning to Christians who have become apathetic and an encouragement to those who are faithfully enduring the struggles in this world. It reassures us that good will triumph over evil, gives us hope in difficult times, and direction when we are waivering in our faith. Christ's message to the church is a message of hope for all believers in every generation.